Become A Smartwomansguide Affiliate

Affiliate Program Managed Through Clickbank

Become an affiliate and earn 50% from every sale made from your website, newsletter, e-zine ads, or Pay-Per-Click advertisements. Becoming a Passion Keys Affiliate is as Easy as 1, 2, 3.
Sign up for a

ClickBank account

(If you do not have a Clickbank ID)
Generate you Affiliate link using the Clickbank Affiliate link generator below:
3. Let us know you have joined.
Simply click on the link on #3 which will take you to our contact page. In the Subject line just copy and paste this: "

New Affiliate Notification"

. Give us your name and email address so that we can welcome you to our affiliate family and send you information periodically on how to boost your sales, as well as updates to our program. Your name and email address will be held in the strictest confidence and will only be used to send you information about our affiliate program.
Promote the Passion Keys:
ClickBank takes care of everything else. They will do the following:

Tips on promoting our e-book:
Use your affiliate links to direct visitors to our site where the sale can be completed. Include your affiliate link in newsletters, email, and letters to your clients. Find every opportunity you can to get your affiliate link in front of the target market. Use personal recommendations and stress the benefits that come with owning Passion Keys.
Clickbank automatically notifies you of each sale via email. When a prospect clicks on your affiliate link, they'll be taken to Passion Keys' sales website, and they will be tracked from start to finish. If they buy, Clickbank automatically notifies you via email. Then you can login into your Clickbank account to see how much money you are making, no matter the time of day or night.


How ClickBank calculates your commissions for:
Our Regular Package priced at $37
Affiliate Commission: 50%
Retail Price: $37
Subtract (7.5% of $37)+ $1 = $3.775
Net Sale Amount: $33.225
50% of $33.225= $16.613 Your commission will be $16.61
How ClickBank calculates your commissions for:
The Passion Keys Gold Package priced at $47
*Affiliate Commission: 50%
Retail Price: $47
Subtract (7.5% of $47)+ $1 = $4.525
Net Sale Amount: $42.475
50% of $42.48= $21.238. Your commission will be $21.23
*Note that Clickbank does not round off their figures to the nearest dollar.

Potential Sales & Commissions As An Affiliate
Based on our $47 Passion Keys Gold Package
# of Ebooks
Sold Per Day

*Commissions
Per Day

*Commissions
Per Month

*Commissions
Per Year

1

$21.23

$636.90

$7,642.80

2

$42.46

$1273.80

$15,285.60

3

$63.69

$1,910.70

$22,928.40

4

$84.92

$2,547.60

$30,571.20

5

$106.15

$3,184.50

$38,214.00

*Note that the more you promote our e-books to the right target market, the greater your sales. There is no guarantee that you will produce the kind of results shown above. Your results will depend on your internet marketing skills, knowledge, abilities, as well as the amount of time and financial resources you commit to marketing our e-books.
You can monitor your sales

Every time someone buys any of our products by clicking on your link, Clickbank will send you an email to let you know that you have just made a sale. You can log on to your account and view your real time stats 24 hours a day, 365 days a year.


When You Will Receive Your Payment

ClickBank calculates payments based on closing balances as of the first and the sixteenth of each month. Payments are made by check and are mailed within fifteen days of closing.
Click here to read Clickbank's Accounting FAQs.

Promotional Material for Affiliates

As an affiliate, you are allowed to use brief descriptions from this website on your website for promotional activities only.

You may also use any of the the following graphics and promotional messages below:


Promotional graphic that you can use on your website: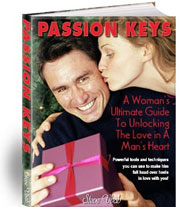 Promotional text/ messages you can use on your website

Feel free to come up with more persuasive messages, as long as they are in line with the messages on the sales page of this website.
THE QUICKEST WAY TO MAKE YOUR MAN
FALL MADLY IN LOVE - GUARANTEED.
You can make your man fall head over heels in love with you
for less than the price of a romantic dinner with your
Sweetheart at a decent restaurant in town
If you want to find out exactly what you need to do starting today to
get your man to cherish you more, love you more deeply, and derive
joy in fulfilling your heart's romantic desires, then
Passion Keys is your answer.
Copyright Restrictions

If you purchase Passion Keys for your own purposes, you are not permitted to publish any parts of it whatsoever, other than what is written about it on this website.