Wait! For A Limited Time Only Upgrage To
The Passion Keys Gold Package
Before you continue, remember that you are covered by my 100% money-back guarantee. This simply means that if you are not happy The Passion Keys Gold Package, simply send me an email and you will get a full refund, no questions asked. You have absolutely NO RISK.
The Passion Keys Package is a special package with five relationship-building e-books that perfectly complement all the tools and techniques I reveal in Passion Keys: A Woman's Ultimate Guide To Unlocking The Love In A Man's Heart. The package contains all the information you will need to get your man to cherish you more and fulfill your heart's romantic desires.
These are the e-books contained in The Passion Keys Gold Package:
Make Your Romance Sizzle

(Valued at $19)

I reveal a lot of things you can do to make a man your man romantic even when you have tried in the past and failed. I give you the secret tools and techniques you can use to break down your mans walls and make your romance sizzle again. This e-book perfectly complements Passion Keys. Use it when you want to quickly bring back the Passion and Romance you crave from your man and change your love life forever.

What Attracts Men Like Bees To Honey

(Valued at $19)

If you have been wondering what it is that makes a man find a woman so irresistible that he cannot live without her, then you must download this e-book. This e-book will change your thinking about what men want, and the kind of women they end of falling in love with. You will be surprised.


Dating & What Men Really Want

(Valued at $19)

For single women only! In this e-book I outline exactly what men want in the women they prefer to date. I show you exactly what turns them on and what makes them run away from you. If you have gone on a date and wondered whe he never called. Or why he just made love to you and vanished, then this is the e-book you want to read. This e-book leaves nothing to chance. It tells you exactly how to turn the dating game around and make you the woman that men want to date.

The Best Way To Get Your Man To Commit To You

(Valued at $19)

If you are in a serious relationship now and you are wondering why your man does not want to commit to you, then this e-book will give you the answers, lets you know whether or not he is ready to commit and exactly what you need to do if you want him to commit to and propose marriage to you. This e-bood is a must-read if you want to take your relationship to the next level.

Quick Solutions To Nagging Relationship Problems

(Valued at $24.95)

Every relationship comes with its dose of problems. This e-book addresses most of the problems that plague romantic relationships. The solutions proffered in this e-book are very creative and will help you get your man to drop his anger and resentment toward you, take you back again, so you can get to the best part of making up - hugs, kisses, cuddling, and making love.
Take Advantage Of This Limited Time Offer Today.
You Get A Total Of Six E-books that are packed with proven tools and techniques that you can start using immediately to create the passionate, loving, and romantic relationship you desire and deserve.
You will have immediate access to the download page as soon as you purchase The Passion Keys Gold Package, even if it is 2:00am. We are open 7 days a week, 24 hours a day.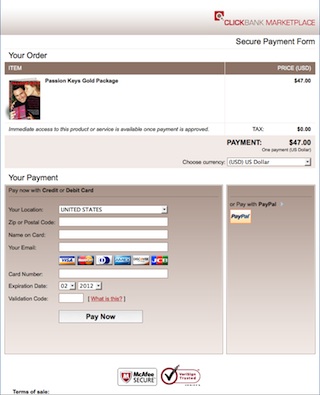 NOTE: For your safety please be aware that the secure
order form on the next page will look like the preview above.
CLICK HERE TO ORDER THE PASSION KEYS GOLD PACKAGE FOR $47
Or
Click Here To Order THE REGULAR PACKAGE For $37